Buy one of Beth Cornelison's books


Colton's Ultimate Test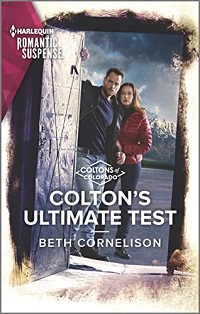 He's her total opposite

And exactly who she needs by her side

By-the-book attorney Morgan Colton has vowed to extinguish the flames she once foolishly ignited with Roman DiMera. But when a man threatening her family goes on the run, Morgan discovers street-smart bar owner Roman is far more than the sum of his mistakes. And the sparks flying between them make Morgan wonder if he could be so much more than her partner in getting justice for the Coltons.
---

"I have enjoyed reading another book in this series ,I was so engrossed in reading it that I had to finish reading it before I could put it down.I can't wait to read more books in the Colton family's.I would recommend it to anyone who had been reading this series. " -- Kindle Customer
"Readers who have gotten this far in the series will appreciate the everyone-lives-happily-ever-after-with-a-wedding epilogue they've been waiting for...." -- Rebecca Moe, Library Journal
---

The Coltons of Colorado
Book 12
January 2023
Harlequin Romantic Suspense
ISBN 978-1-335-73818-9


Permission to reproduce text granted by Harlequin Books S.A. Cover art used by arrangement with Harlequin Enterprises Limited. All rights reserved. ® and ™ are trademarks of Harlequin Enterprises Limited and/or its affiliated companies, used under license.