Buy one of Beth Cornelison's books


What's New with Beth?
The McCalls of Colorado will have one more installment in 2020! In the meantime, please enjoy my October 2019 release, Colton 911: Deadly Texas Reunion. And, in case you missed it, Rancher's Covert Christmas (December 2018--book 3 of 4 in the McCall Adventure Ranch series) will be FREE through Harlequin during November and December 2019!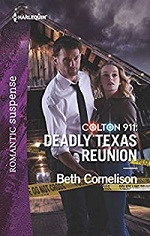 October 2019
Harlequin Romantic Suspense