Buy one of Beth Cornelison's books


Colton's Undercover Seduction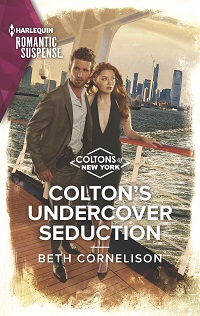 When working undercover

takes on a whole new meaning

This assignment could finally give rookie cop Eva Colton the opportunity to prove herself—to her squad and her family. But it meant partnering with Carmine DiRico…as his wife. The handsome detective was a thorn in Eva's side and a temptation she dare not act upon. Sharing such close quarters with Carmine, even if it was their only chance to bring down a murderer, was a risk that would change everything.
---

Coming soon!
---

The Coltons of New York
Book 4
April 2023
Harlequin Romantic Suspense
ISBN 978-1-335-73834-9


Permission to reproduce text granted by Harlequin Books S.A. Cover art used by arrangement with Harlequin Enterprises Limited. All rights reserved. ® and ™ are trademarks of Harlequin Enterprises Limited and/or its affiliated companies, used under license.