Danger at Her Door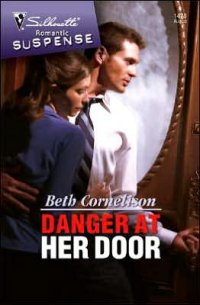 Five years ago, Megan Hoffman was raped in her home, and her world fell apart. Though she's piecing her life back together, she never feels truly safe because her rapist has never been caught. Megan believes suppressing her tragic past is the only way to protect her privacy and her progress toward healing her soul, so she vigilantly guards the secret of her attack.
When Megan meets Jack Calhoun, her sexy new neighbor and a single father, she fears her fragile life is about to shatter again. Jack is an investigative reporter, researching the town's string of unsolved rape cases. While Jack's investigation threatens to unearth Megan's secret, his charm and rugged appeal tempt Megan to leave her well-fortified comfort zone and take a chance on love. But new leads in the serial rapist investigation bring Megan's nightmare out of hiding and make Megan the target of a madman determined to silence her ... forever.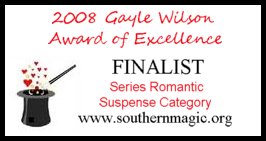 ---

"With poignant emotions and heart-pounding suspense, readers will remember DANGER AT HER DOOR long after the last word is devoured... The vividly depicted characters are unforgettable, even the lovable canine companion, and the storyline is both moving and riveting in every scene from its realism. Beth Cornelison has outdone herself in telling this emotive story of despair and triumph. Her ability to create stories packed with realistically portrayed moments featuring genuine characters makes Beth Cornelison a master at her craft. Regardless of whether the characters are some of the most beloved you have ever read or one of the more contemptible, their natures will be convincing revealed all through the story, often with surprising results. With storylines which are original and skillfully written, there is never a lull in this talented authorís work. Though the emotional aspects of the story are the driving force in this multilayered story, the suspenseful incidents add much to this already profound book. DANGER AT HER DOOR is one of those rare stories which touch one deeply on numerous levels throughout the book." -- Amelia Richard, Cataromance.com
"DANGER AT HER DOOR is a fascinating story about a subject that we donít often read about. Along with the serious topic of rape is a charming romance. The book is well written and poignant, with realistic characters. It is a hard-hitting romantic suspense, and this reader/reviewer will be looking for more from this talented author." --Marilyn Heyman, Romance Reviews Today
"The plot is very fast moving and the suspense builds nicely until the last very exciting chapters. Enjoy this one." -- Maura, Coffee Time Romance
"DANGER AT HER DOOR is an outstanding contemporary romantic suspense from Beth Cornelison. The characters are fresh, vulnerable, and full of vitality. Cornelison is brilliant with her story weaving skills and leaves readers on the edge of their seats page after page. I would highly recommend this read to anyone who enjoys romantic suspense. You will NOT be disappointed." -- Kym Oettig, Romance Reader At Heart
---

Megan stared at the men lined up behind the one-way glass and fought the urge to throw up. Anxiety, anger and frustration twisted inside her until she thought she might shatter under the pressure.
But not now. Right now she had to pull herself together. She had a job to do. The sooner she did her job, the sooner she could get out of the small room where the walls seemed to close in on her. The stale odor of cigarettes and the noxious fumes of floor cleaner hung in the air, contributing to her queasiness.
More unsettling were all the uniforms gathered around her, the men with guns on their hips and badges on their chests.
Policemen are our friends, she'd taught her class on career day. They protect us and help us during emergencies.
But the man who had attacked her had exploited her trust in a police uniform, used that trust to get inside her home. And the sea of blue uniforms was a too-vivid reminder of the army of officers who'd replied to her 911 call and tramped through her home gathering evidence. They'd asked endless questions when all she wanted to do was block out the horrid images and escape the sounds replaying in her head.
Beside her, Ginny hovered quietly, her hand on Megan's shoulder in a silent show of support.
"Do you recognize anything about any of them?" The police detective in the dark room with them asked his questions in low, modulated tones. Ginny and the detective had taken pains to make Megan's task as easy on her as possible. Still, the notion that one of the men in the next room, lined up for her inspection, could be the man who'd haunted her for five years sent a chill slithering down her spine.
When she tried to answer, no sound left her mouth. After clearing her throat, Megan tried again. "I recognize number three. He's the man I saw on the news last night."
The detective shifted his weight and scribbled in the small notebook in his hand.
"But-" Her gaze remained locked on the glowering faces behind the window.
In the periphery of her vision, the detective stopped writing and raised his head. "But what?"
Drawing a slow, shaky breath, she shoved down her discouragement. "I can't say with any conviction that he, or any of the others, is the man who-" When Megan faltered, Ginny reached for her hand and squeezed it. "The man who raped me."
Facing the detective, Megan sighed. "God knows I wish I could. But the man who attacked me had a lightning bolt tattoo on his forearm. And . . . he was balding and-"
A shudder race through her, remembering the face that she'd worked five years to erase from her nightmares. "He's not any of those men."
"You're sure?"
She heard frustration in the detective's voice. With a nod, she glanced back at the line-up of men, and the knots in her stomach tightened. The man she recognized from the television stared straight ahead. His light gray eyes stabbed her like shards of flint.
As cold and frightening as his pale glare was, the menacing eyes she recalled so vividly from the night of her attack had been dark brown, almost black. The man in the line-up had no decoration on his arm, nor any scar indicating the removal of a lightning bolt tattoo. Though she wanted to believe her assailant had been caught, the inconsistencies led her to the only conclusion that made sense.
Her rapist still walked the street.