Buy one of Beth Cornelison's books


Protecting His Cameron Baby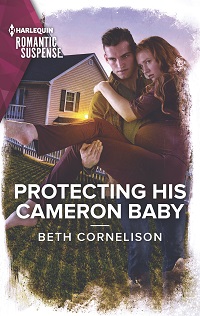 He was her destiny

…a treacherous lover.

"He's my soulmate," declares Isla Cameron, who has a sixth sense about charming Evan Murray. Seduced into a steamy affair with him, she becomes pregnant. What Isla doesn't sense—but soon discovers—is that Evan has an ulterior motive for romancing her. Still, she must trust him when he kidnaps her to protect her and their unborn child from danger. Hiding out together, will she forgive his betrayal?

---

Coming soon!
---

Cameron Glen
Book 4
August 2023
Harlequin Romantic Suspense
ISBN 978-1-335-59368-9


Permission to reproduce text granted by Harlequin Books S.A. Cover art used by arrangement with Harlequin Enterprises Limited. All rights reserved. ® and ™ are trademarks of Harlequin Enterprises Limited and/or its affiliated companies, used under license.