Buy one of Beth Cornelison's books


Rancher's Deadly Reunion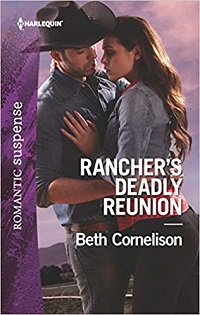 Introducing The McCall's Adventure Ranch
The prodigal cowgirl returns home…and straight into danger
When Piper McCall heads home, she runs smack into ranch hand Brady Summers, the man she left behind. Years later, the sparks between them burn as brightly as ever, but dark secrets—like the identity of his orphaned nephew—linger. And when Piper's life is threatened, neither she nor Brady will ever be the same again.
---

---


October 2018
Harlequin Romantic Suspense
ISBN 978-1335456595
Buy one of Beth Cornelison's books



Permission to reproduce text granted by Harlequin Books S.A. Cover art used by arrangement with Harlequin Enterprises Limited. All rights reserved. ® and ™ are trademarks of Harlequin Enterprises Limited and/or its affiliated companies, used under license.