Buy one of Beth Cornelison's books


Rancher's High-Stakes Rescue
Stranded With a Cowboy
While out on the range, cowboy Josh McCall finds himself the victim of vicious sabotage. Now he's stuck in the wilderness with no one but city slicker Kate Carrington. The rough-and-tumble rancher must use all his skills to survive, his willpower to protect Kate and his determination to resist their mutual attraction. Until Josh makes one fateful decision that could jeopardize their bliss…and their lives.
---

"This was a good continuation of the mystery of why the McCall ranch is being targeted as well as the romance between Josh and Kate. This book picks up a few months after Rancher's Deadly Reunion. I can't wait for the conclusion in the next book. " -- Susan on GoodReads
---

McCall Adventure Ranch
November 2018
Harlequin Romantic Suspense
ISBN 9978-1335456632


Permission to reproduce text granted by Harlequin Books S.A. Cover art used by arrangement with Harlequin Enterprises Limited. All rights reserved. ® and ™ are trademarks of Harlequin Enterprises Limited and/or its affiliated companies, used under license.
Box Set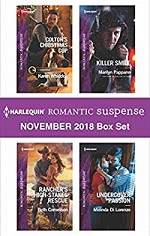 French Version